Children & Secondary PTSD… Quoting from this website…
(Co-Author of I Always Sit with My Back to the Wall
by Dr. Harry A. Croft, M.D., Rev. Dr. Chrys Parker and J.D. (Mar 1, 2011)
"America's children are, literally, under attack by secondary PTSD. The word "secondary" simply means that they stand one level or step away from the original source of trauma. For example, a child may be a level removed from the actual mortar rounds that may have traumatized his/her warrior father. It is critical to note, however, that EVEN THOUGH THE ROUTE OF EXPOSURE TO TRAUMA MAY BE SECONDARY IN THE CASE OF THE CHILD, ITS SYMPTOMS AND EFFECTS MAY BE THE SAME AS THE PRIMARY SUFFERER. In this sense, the child may develop PTSD as if he/she is under mortar fire, only indirectly."
#####
While researching and writing my book in 2011, and since connecting with others through this blog, the pattern is the same… Kids at risk model the challenging emotional behavior of parents and develop their own symptoms of PTSD to carry forward as adults. Most never get the pain resolved and remain in denial. Why? Not because they intend to, it is because they do not want to hurt others with their own pain. And there is the stigma and motivation by children to protect their family. My parents demonstrated emotional numbness so much of the time. We siblings learned how to protect ourselves and survive the toxic post WWII home culture. We looked okay on the outside, but all of us built a protective shield around ourselves. Being angry and not knowing why becomes inherent from keeping all this painful stuff in a box next to our heart and inside a secret place in our brain. We then take it with us well into adult life. As a potential consequence the next generation of family members risk acquiring the same secondary symptoms of PTSD. So, it goes on and on for many decades until the pattern is broken by some stroke of magic.
Local communities can help kids and families break the patterns of early childhood developmental risks by nurturing kids with after-school programs. Neighbors for Kids, Depoe Bay, Oregon… is a great example of an after-school program and non-profit model that fits our rural community on the coast of Oregon very well. We now have 234 K-12 kids registered in our program who look forward to being with us between the hours of 3pm-6pm. We are coming up on the 3rd year of a very successful NFK Summer Camp as well…
Neighbors For Kids
MISSION:

Neighbors For Kids' mission is to provide youth in our region with educational enrichment, positive youth development, and recreational activities; all in a safe environment which focuses them toward healthy lifestyles and leads them to become responsible, contributing adults.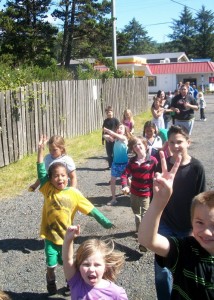 Kids from NFK keeping busy and productive after-school…
There are other critical non-profit programs in Lincoln County like
Neighbors for Kids, Depoe Bay, Oregon…
We are all challenged with on-going operational costs. As a neighbor you can help with a big "YES" vote on Measure 21-151. Please get your ballot returned right now!
Steve Sparks