http://www.research.va.gov/currents/feb12/feb12-04.cfm
The following quote is from the Department of Veterans Affairs Research News.
"The second step requires shifting the way that many of us think about people living with PTSD, who still encounter the stigma of being thought cowardly or weak. It's sort of bizarrely ironic when you think about it, given that individuals with PTSD are those who have been through some of the most extreme and horrifying circumstances in human life—and have survived."
The write stuff—Dr. Erin Finley's book Fields of Combat: Understanding PTSD Among Veterans of Iraq and Afghanistan is based on research she has conducted while at the San Antonio VA Medical Center and the University of Texas. (Photo by Lester Rosebrock)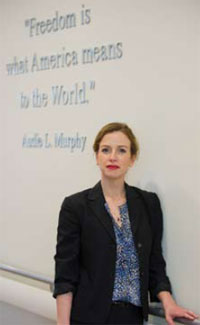 One of the most serious and disturbing challenges I have reported on more than once, including addressing in my book, Reconciliation: A Son's Story, is the stigma connected with military PTSD. Way back in 1965, my first job application with General Telephone (now Verizon) in Redondo Beach, California was rejected due to my own diagnosis noted on the DD214 from the US Navy. I received an Honorable Discharge from the US Navy after serving just two years. My Navy experience in radio communications and electronics, including vocational training, paved the way for a long and successful career in the information technology (IT) business. Shortly later after General Telephone's rebuff the Western Union Telegraph company was excited to hire me. I eventually retired from Nortel Networks following a 35 year career in the IT industry, including completing my college education along the way. My career continued for several years doing IT management consulting when finally choosing a new path working as a volunteer board member for Neighbors for Kids, http://www.neighborsforkids.org, and becoming an author. What would have been the outcome if all companies at the time refused to hire me and other veterans with disabilities from the Vietnam era? How many veterans today struggle with discrimination? We already know that many veterans from past wars have been the subject of discrimination.
To this very day while doing the research for my book; including connecting with veterans and families all over the world through my Blog, Facebook, and Twitter, the stigma persists. I've been told more than once during my own career and by past and current veterans to limit emphasis on military experience while interviewing for a private sector job. Be especially careful if there is a question about combat experience because it is likely that the interviewer will ask more questions in attempt to find out more… I am amazed and offended at this attitude by any employer who behaves this way…
And the other big problem is in the judicial system. Although we have Drug Treatment Courts, we are just beginning to see Veterans Treatment Courts http://www.nadcp.org/vets. Combat veterans with mental health challenges who break the law should be given the same consideration, but more so, by enhancing the Drug Treatment Courts to focus on veterans. In the most severe cases of PTSD, a combat veteran could be unstable and addicted with the risk of breaking the law. The courts must take into account the veteran's honorable and brave service. But in the case of our legal system, there must be changes in state and local laws to give special consideration to veterans. Otherwise, there is a high risk that veterans will go to jail rather than receive appropriate treatment and support in getting back on their feet and healthy again. The statistics for Drug Treatment Courts show big decreases in legal expenses and respectable recovery rates for offenders.
FACT:

Drug Courts produce cost savings up to $12,000 per client.

These savings reflect reduced prison and jail costs and reduced arrests and trials.
FACT: Nationwide, 75% of Drug Court graduates remain arrest-free
at least
two years after leaving the program.
We must do more as a community to get behind helping veterans. The Department of Veterans Affairs resources are stretched creating long queues and waiting periods. Local non-profits or public/private partnerships are beginning to take the lead on a local community basis to fill gaps. Get involved! You can make a difference… And feel the joy of helping others.
Steve Sparks
Author
Reconciliation: A Son's Story