Mental Health 1st Aid Saves Lives!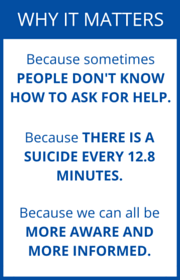 #####
When we started doing an exercise during a community Mental Health 1st Aid workshop to demonstrate how it feels to experience auditory hallucintations, I had not a clue what this term meant.  When my fellow student, Winnie, started to talk to me, I was hearing a voice in the background, acted out by another student, Bill, who used a rolled up paper to say weird stuff to me.  The questions included, Why are you talking to her? Don't trust her.  Is she looking at you? Why would she want to talk to you?
Bill, had this rolled up piece of paper in my ear yelling at me.  I started whacking at the bull horn and looking around at him in distress because I could not hear or concentrate on anything Winnie was saying to me.  It was at this moment I realized how a person suffering from a psychotic episode must feel.  I then realized why so many of us do not know how to respond or what to do when we see a person struggling outwardly from the nagging, disruptive, and painful voices in their head.
It was then it hit me like a good slap in the face why Mental Health 1st Aid training must be mandatory in our society as a integral part of America's First Aid Training.
I highly recommend to everyone to make it a personal goal in the coming weeks and months to take the Mental Health 1st Aid one day training in your community.  You will receive a certificate of completion to hang up in your office or home that shows you have completed the 8 hour course. It is critical to let others know that you have the awareness, compassion, and empathy for those who struggle with mental health challenges.
The workshop will provide the tools to help friends and family, even strangers, in several ways. As part of the class students also receive an easy to read, and well done reference and workbook entitled, Mental Health First Aid USA, First Edition, to keep on hand. Following is the action plan learned from the workshop.
Just as CPR helps you assist an individual having a heart attack, Mental Health First Aid helps you assist someone experiencing a mental health or substance use-related crisis. In the Mental Health First Aid course, you learn risk factors and warning signs for mental health and addiction concerns, strategies for how to help someone in both crisis and non-crisis situations, and where to turn for help.
---
Topics Covered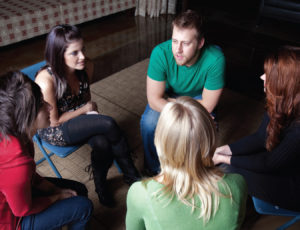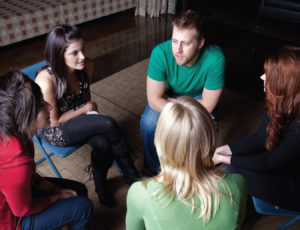 Depression and mood disorders
Anxiety disorders
Trauma
Psychosis
Substance Use disorders
Mental Health First Aid teaches about recovery and resiliency – the belief that individuals experiencing these challenges can and do get better, and use their strengths to stay well.
---
 The Mental Health First Aid Action Plan…ALGEE
Assess for risk of suicide or harm
Listen nonjudgmentally
Give reassurance and Information
Encourage appropriate professional help
Encourage self-help and other support strategies
Interventions Learned

When you take a course, you learn how to apply the Mental Health First Aid action plan in a variety of situations, including when someone is experiencing:

Panic attacks
Suicidal thoughts or behaviors
Nonsuicidal self-injury
Acute psychosis (e.g., hallucinations or delusions)
Overdose or withdrawal from alcohol or drug use
Reaction to a traumatic event

The opportunity to practice — through role plays, scenarios, and activities — makes it easier to apply these skills in a real-life situation.
You don't want to miss Mental Health First Aid training when it comes to your community!  I feel much better equipped now to help friends and family, and even strangers, who are struggling.