Please support my mission of helping families who suffer from PTSD and moral injury…order my book,
Reconciliation: A Son's Story.
Click and order paperback or download Kindle version. Buy my book at Barnes & Noble as well… Thank you!
Steve Sparks, Author
Price for Peace HD from Pearl Harbor to Nagasaki… click to watch trailer and order HD…
A special bonus…my father's account of his experience aboard the USS West Virginia on December 7, 1941…
Price for Peace
Running time: 90 minutes
Not Rated
2001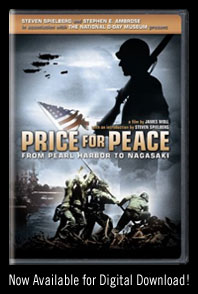 This powerful and thought-provoking film chronicles the compelling events in the Pacific Theater of WWII, from the bombing of Pearl Harbor in 1941 to the American occupation of Japan in 1945. It depicts the strength and courage of America's youth, while examining how these young men and women dealt with being thrust into a brutal war.
The film includes interviews with war veterans, both American and Japanese, from all branches of the military. It features testimony from medics, nurses, dog handlers and Japanese Americans who were imprisoned at internment camps in the United States. The film also includes a first-hand account of the tragic impact of the atomic bomb on Japanese citizens. Among the veterans who appear is Zenji Abe, a Japanese veteran who flew the mission to bomb Pearl Harbor, and retired General Paul Tibbets who flew the mission to bomb Hiroshima.
Produced by Steven Spielberg and historian/author Stephen E. Ambrose
Directed by James Moll
Reviews:
• "A hard uncompromising look at the Pacific side of the World War II" — Irv Letofsky, Hollywood Reporter
• "Demands to be seen" — Robert Bianco, USA Today